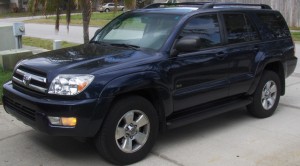 Back in 2003 I leased a brand new Toyota 4Runner Limited. It was so awesome for me because for years previous I had wanted a 4Runner very much. About a year and a half later I was getting an oil change and while I was waiting I took a look at the newer 2005 4Runners. I was starting to think that it might not have been too smart to lease what at the time was my dream vehicle. After working with a sales team that helped me I moved into a 2005 Toyota 4Runner. It Seemed like a decent idea at the time because my payments were going to be very similar and at the end of those payments I would own the truck instead of having to give it back.
Now it is 7 years later and I am fast approaching a very memorable moment in the life span of my 4Runner. In a few short months I am going to roll up and over the 100,000 mile mark. Interestingly to me there has not been a time that I have had my truck that I wished that I didn't have it. This has never been true with any car or truck that I have owned before. The Ford Explorer started falling apart, the Honda Accord was too small to fit my Golden Retriever Mulligan, and I wont even mention the pieces of shit that I owned between the ages of 16 through 25.
If I was forced to name a complaint about my 4Runner it would be the gas mileage that I get. My commute to work now is about 45 minutes each way and at today's gas prices ($3.70) I am spending about $11.50 a day in gas just going back and forth to work. Add to this cost the rumors that I am hearing that the cost of gas could go near $5.00 per gallon this summer. This has lead me to look into what it might cost me to get a new car/truck that gets around 30+ miles per gallon.
What I have found is that to get a vehicle that has anything near the size of my 4Runner to get 30+ miles per gallon just might not happen. Most of these smaller SUV/Crossover trucks mostly list their mileage between 23-28 miles per gallon. It seems right now that getting a $300 car payment for one of these cars for that increase in gas mileage might not be worth it.
I think that unless I find some truck or car that I have not so far that I am going to stick with the 7 year old Toyota. What this means through the next 6-8 months is that I am going to have to make an investment in some maintenance costs to freshen up the 4Runner. I am going to have to replace the air conditioning compressor. I am going to have to get 4 new tires. I am going to have to do some of those 100,000 mile maintenance tasks. All of this it looks like will cost around $3,000 over the next year. If I do these repairs on the Toyota and buy myself another 2-3 years with my truck maybe by then a better gas mileage SUV will be available.
If you have read my writing about my Onkyo TX-NR609 receiver or maybe the Brooks Adrenaline GTS 12  running shoes that I recently purchased just imagine how much I am going to have to shop and learn about something that might cost me $300 every month.
If anyone has advice on how I might save money replacing the compressor, or buying the new tires, I could use any help I can find. Feel free to leave a comment below with any tips you might know about.