A Novice Runner Buys Brooks Shoes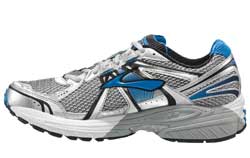 From the very beginning it must be made clear that I am way below the level of novice. As way of background it might help to know that last May (2011) I made changes and decided to start living a healthier lifestyle. Part of this change included adding exercise to my regular routine. To find out if this was a passing phase or a real change I went out and bought some lower priced running shoes. I went to a Sports Authority and bought a pair of clearance New Balance running shoes.
For about five and a half months this plan worked out pretty well. On average I was doing some sort of exercising three times a week. Most weeks I was "running" two times a week and very often three times a week. When I say running I should clarify that what I mean is that I was moving slightly faster than a jog for about 2 to 2 ½ miles at a time. Sometime in the month of November my running started coming to an end. Pain between my shin bones and my calf muscles started becoming a chronic problem. Different from the shin splints I experienced years ago these splints hurt for a few days after trying to run.
Bad things started to happen when I stopped doing my running. Where I had lost around 8 pounds while running, when I stopped I gained 15 pounds. Given that my original goal was to lose 25 pounds this meant I had to now lose 40 pounds to get to my target weight. Something needed to be done because no matter how much time I took off the first time I went running again the pain would come roaring back. After talking with a few other people that I knew were runners about my problem they all suggested that I try using better running shoes.
Buying Better Running Shoes
I had heard and started reading about Brooks Running Shoes. It turns out that runners take these things very seriously and companies like Brooks make about a half dozen different designs of running shoes and call them different names. I settled on the Adrenaline GTS 12 style of Brooks shoes because they are marketed as the running shoes with the most support. Because I pronate or some sort of "nate" I was informed that shoes such as the Brooks Adrenaline GTS 12's would help prevent my shin splints. I have to say that I was skeptical. It seemed much more likely that getting older was my real problem and that I could run on clouds and because of getting older it was going to hurt.
The Brooks Adrenaline shoes are marketed that they have this DNA Technology that is in the heel and the forefoot of the shoe. This DNA Technology is supposed to customize the cushioning to the part of the shoe that needs the support. The idea is to prevent foot pain and fatigue. This all sounded good to me, but the pricing of this space age technology made it clear that it was not being given away. Gone was my purchasing of running shoes for $40 on clearance from a discount store. The Brooks Adrenaline GTS 12 shoes cost $110, before taxes.  While $110 is a good deal of money for running shoes when I started shopping for new shoes I found that $150 and $200 running shoes was very common, and I started feeling better about the "lower" cost of $110.
Bottom Line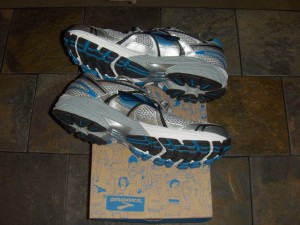 I would recommend for novice runners who have experienced shin splints to purchase a pair of Brooks Adrenaline GTS 12 running shoes. In the first week I went running twice with these shoes, and after both times my legs felt great. It really is something to live a week without nonstop aches being felt in my legs. I had forgotten how walking without pain felt.
It might not be real, and it might be my imagination but after running I think the cushioning in the shoes has shifted. It feels as I cool down walking that the pressure points and support from the soles of the shoes has changed compared to the way that support felt before I started running. Whether it is placebo or real it does not matter to me. I think the shoes are working and the bottom line is that they are.