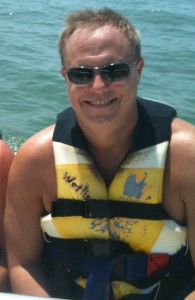 I am afraid of heights. A couple of weeks ago I was at a conference in Las Vegas and was lucky enough to have a hotel room with a balcony overlooking the strip from 52 stories up. When I was a couple of feet from the rail of the balcony the view was fantastic and I enjoyed it very much. When I moved next to the rail and looked straight down a very familiar fear gripped me. As you might have heard said before, I am not so much afraid of heights, I am afraid of falling.
Being afraid of things is not the person that I imagine myself as. While I have never gone sky diving, or bungee jumping or many other high adrenanilne activities I like to think I am the type of person that would do those things. As much as I want to consider myself to be the type of person that would hand glide the truth is that I have never actually done it. While this past weekend I did not jump out of a plane, I did become a human kite when I decided to try parasailing.
While enjoying a fantastic Florida Labor Day on Clearwater Beach I decided to face my fear of heights. On the beach near Frenchy's there is a group that goes by the aptly named Parasail Clearwater. For $60 they will hook you up to a giant parachute, tie a rope to it, and kick you off the back of a boat while they accelerate to kind of lift you in the air like you got a kite in the air as a kid. For this entry level pricing of $60 they will get you 400 feet in the air. This 400 foot level is the level that I had talked myself into doing when I walked up to the parasailing stand on the beach.
While talking to the employees I noticed another guy about my age and what looked like a 13 year old girl buying their tickets to parasail. This guy and his 13 year old daughter along with two of her teenage girlfriends were not going to go 400 feet up. See for $70 the parasailing guy will let you get 600 feet into the air. For only $80 the parasailing guys will get you 800 feet up, and these very small, very young looking teenage girls were going to go up 800 feet.  You know what happened next. I paid the extra few bucks and purchased a ticket to go up the full 800 feet.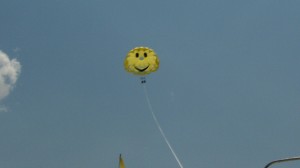 So in no particular order here are some memories or thoughts that I have about parasailing:
When you get hooked up to the parachute there is basically a single strap that loops under your butt and a couple of small clips that attaches to the parachute
The scariest part is that there just does not seem to be any backup safety harnesses or fail safe equipment to save your life if your primary straps break
When the boat accelerates it does not take very much time before you are up over a hundred feet which does not give you that much time to be scared
When you are 800 feet above the water it is very different than being in a high rise building looking down. Probably because there is no point of reference it really does not seem like you are up that high. Well, it doesn't look that high looking into the horizon, it does look a little high when you look straight down
When we flew over boats or other people on the water they could tell I was waving and I know they heard me yelling because I could hear them yelling back.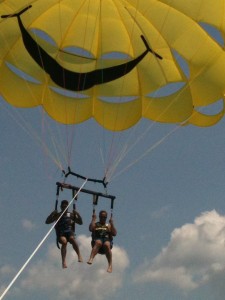 Included in this post are a few pictures of me attached to a kite being flown hundreds of feet up in the air. I also wish I had a picture of something else I could share. A picture of how I felt having overcome my fear of heights would be awesome if it was possible. I still might never jump out of a plane or bungee jump, but from now on for the rest of my life, I can say that I did the parasailing thing 800 feet into the air.