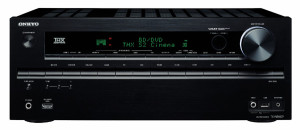 A couple years ago I published a post explaining why the sound from your Onkyo receiver was out of sync with the video. Now a couple years later I have a new experience to share.
A few weeks ago my Onkyo receiver model TX-NR609 stopped producing any sound at all. I mean no TV, no Blue Ray, no Spotify, not even any static from AM or FM radio. It was looking pretty bad. Looking like I was going to be in the market for a new receiver.
Of course doing SEO work (internet marketing) for a living I trusted that Google would be able to help me out. I started searching for info about Onkyo receivers not producing any sound. I found some message boards that informed me that there was a problem with Onkyo HDMI boards. These boards are responsible for parsing signals from HDMI sources, and they can run pretty hot. Not sure why they last 2-3 years before failing but that is what is happening.
Your receiver could have other issues. But if you have run out things to try you could have a busted HDIM processor that needs to be replaced.
Get you Onkyo Receiver Working
Enough with the story. What you really want to know is how to get your receiver working again.
Email Onkyo at

parts@us.onkyo.com – You should include a copy of your receipt , and the serial number for your receiver. Do not be worried if your receipt has a purchase date older then 2 years. Onkyo seems to know they have a problem and seem to be willing to help people even if they are out of warranty

If you are lucky you will get support person Jose Torres. Jose was very good at keeping me informed about how the process worked, and responding to my emails. Truly a really solid support person that Onkyo should be proud to have

Jose arranged for me to be mailed a sturdy box with all the packing materials necessary to FedEx my receiver to the Onkyo repair department

I packed my receiver up and included the information requested

I FedEx'd my receiver on a Monday and two weeks later Onkyo had my receiver back at my house fully repaired
It might have been the living without the receiver for a couple of weeks but my receiver sounds better than ever.
Through my reading about this issue I was getting mixed reports about what happens if the HDMI processor breaks a second time. Some people online report Onkyo only offering a one time fix. Some are reporting Onkyo offering the part if not the labor to get the unit fixed. I can't say what will happen if or when my receiver breaks again. Maybe if I get a couple two or three more years I'll be ready for a nice upgrade.
I could go a for a receiver with blue tooth connectivity and 4k inputs. But that can wait a couple of years.