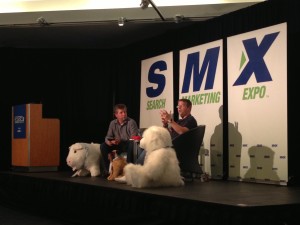 For those that make a living providing SEO the pursuit of the next best practice or the next tip that will help increase traffic is an everyday pursuit. From the days of stuffing the meta keywords attribute to the days of building links through leaving links on blogs in the comment sections, those tasked with getting websites to rank higher in the search engines have looked for the best tips. By attending the SMX Advanced conference in Seattle I was hoping I might get a few SEO tips valid in 2013.
I do not expect my takeaways or action items from the SMX conference to be shocking revelations for most professional SEO people, but I feel comforted when theories or SEO best practices I believe in are re-enforced by leading voices within the community.
SEO for Mobile is going to be a thing:
If the blog post from Google was not enough for a SEO to take action, then hearing Matt Cutts explain during the keynote multiple times the importance of mobile optimization should. Google is serious about this whole mobile search business. As you can tell from this article, Google is expected to earn nearly 57% of all the mobile ad revenue for 2013. That is some serious motivation to provide ever better search results for their mobile customers.
So what should you do? First make sure that your mobile and desktop site are cooperating with each other. If you are using redirects for mobile visitors to your desktop site make sure to redirect them to the matching page on your mobile site. Google is going to start lowering your mobile rankings if you site visitors get bad experiences on your mobile site.
The big talking point in all the breakout sessions regarding mobile was the strong opinion expressed by many panelists that perhaps it was wiser to deploy using dynamic design rather than responsive design. I could list all the arguments for you for both options but that would be a whole post on to itself. If it helps I did hear Duane Forrester say very clearly that responsive design for your mobile site is the correct choice.
Schema Markup is also going to be a thing:
If you are not aware. Schema.org is designed to improve the web by creating a structured data markup schema supported by major search engines such as Google. On-page markup helps search engines understand the information on web pages and provide richer search results.
More than a few breakout sessions had demonstrations of tests that proved that using markups such as those that show breadcrumbs in the search results were increasing click through rates significantly. There is, to be sure, little doubt that any chance you have to inform the search engines what your content is about you should take it.
Usability and User Engagement will be the thing very soon:
Again Matt Cutts stated that your site's bounce rate was not being used as a factor for search rankings. This news is interesting to me because from both Matt and Duane a good deal of the words I heard them say over and over again included "testing", "usability", "engagement", and "social". Again, Matt specifically insisted that Google's rankings were not impacted by Facebook likes or shares. So what is an aspiring or highly motivated SEO to do?
I think that while we have not heard what measurements or how they are doing it, increasingly search engines are learning to gauge a web site's visitor engagement. There is no doubt that as the search engines learn to track and rank sites in part based on user engagement we can not and should not be told how. I can not imagine what the black hat SEO people would do if they learned shortcuts to fake user engagement.
For sure I am going to be doing these things over the next year.
Encouraging additional social shares, likes, circles, and tweets

Publishing more rich media

Test for more effective call to action links and buttons

Test colors, fonts, images, and page layouts
Like I said. For those that spend time daily following the world of SEO most of this information should not be new. What you should take away from SMX Advanced or this blog post is that what you have been doing, and what you plan to do for your websites has been and will be the right things.