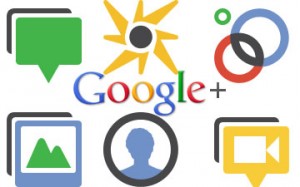 For the uninitiated there is a simple way to describe what Google+ is. The way that I describe it, Google+ is really just a cross between Twitter and Facebook. The similarity with Twitter is due to the ability users have to follow anyone that they want just like they can with Twitter. For example if you are interested in what Nicholas Kristoff is up to you can set your Google+ account to follow him and your news stream will be populated with the public postings of Mr. Kristoff. The similarity with Facebook is realized through the ability users have to interact with friends and family in the exact same ways that they have gotten used to already.
So why should people move to Google+? To start, Google+ has "hangouts" with group video chat, better searching tools, a more intuitive interface, and a much more advanced commenting system. The one thing that Facebook has that Google+ doesn't have is: people. Friends and family just have not started using Google+ yet so if you are interested in sharing a birth announcement or something Facebook is still the place more likely to get the word out.
Recent reports put the current number of users on Google+ at 100 million. This sounds like a large number up until you hear that Facebook has over 500 million users. The primary problem slowing the growth of Google+ is that everybody isn't already on it. Where are the ex girlfriends or boyfriends? Why are there no High School classmates to check up on? Why isn't my cousin that I grew up with not commenting on my posts on Google+?
For those of us that have been on Google+ from the start the difficulty in moving friends and family over from Facebook has been surprising because we know how much better Google+ is. The truth is that most people using Facebook are not social media experts or technical aficionados. People on Facebook today are primarily there because that is where everyone else they know is. Most people that I have gotten to try Google+ have checked it out for a few days and then left because their aunt that gave the best Christmas presents years ago is not there. It can be very frustrating.
I know that Google+ is a superior application but I have not gotten the buy in from the more casual friends and family members. To help improve the online lives of friends and family I feel it is important to help in their transition Google Plus. Of course the long term goal is to improve my own online life.
Here are a few things that any Google+ fans can do to help their friends.
Explain the Difference Between Facebook and Google+
For people only interested in interacting with people that they already know Facebook is the answer. Google+ in addition to allowing conversations with people users already know is a great place to make new friends.Stop
Posting on Facebook and Post Only on Google+
Many people on Google+ duplicate their postings on both Google+ and on Facebook. For people interested in getting more of their friends or family on to Google+ stop giving them all your best stuff on Facebook.
Act Like Friends and Family are Already on Google+
On Google+ a user can set up their connections to include anyone that they have an email address for. When a Google+ user posts something on their account they should make sure to include those that they have email address for to get notified of the new content. This way an email with the link to the new post will be sent to friends and they will get to see how great following you on Google+ will be.
Post Your Best Pictures Only on Google+
Pictures of the kids, friends, or family that you have to share should be shared on Google+. People love seeing pictures of themselves so make sure that people know that they can see what is going on with you and their pictures on your profile page.
Create a Circle for New Google+ Members
No matter what hobbies or work that your friends or family are in to it is possible to find other people on Google+ that are in to the same things. As soon as a friend opens their Google+ account send them a circle with lots of people who are into the same things as they are. Then every time a person logs on to Google+ their news feed will be full of great new stuff. This will help bring new people back more often. Feel free to add my account for anyone into Internet marketing, sports, movies, music, or general pop culture.
Do your friends and family that are spending their time on Facebook a favor and turn them on to the benefits of Google+. If you have found any proven ways to help new people transition off of Facebook please share.