Golden Retriever Mackenzie – Puppy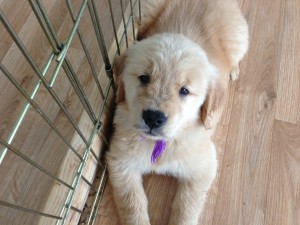 Born May 2013 Mackenzie was originally called Patience by her breeder Linda Wilken. Turns out she was not that excited about being in a hurry to be born. The first puppy to come out arrived with no problems. It took Mackenzie the second puppy born, 3 hours to decide that the world was ready for her entrance.
I started making visits to Mackenzie and her brothers and sisters right around their 4th week. Already they were just about the cutest golden retriever puppies ever. Note: In the pictures and videos on this page you can tell which puppy is Mackenzie by the purple ribbon collar she is wearing. You should know that up until the end of the 7th week I did not know which of the dogs was going to be mine. It just turned out that Mackenzie had prominent placement in the videos and pictures. Almost, it seems, like we were meant to be together.
Preparing for a New Puppy
I have not had a puppy my entire adult life. My previous two dogs were older when I got them. Pete, the beagle was nearly 2 when I found him in a dog pound in Kentucky. Mulligan, the golden was 7 months old when I found him with a breeder in Lakeland Florida. What this means is that I have not had the opportunity to raise a dog from the early age of 8 weeks. Add to this lack of experience 4 weeks of knowing my new girls was coming and I had way too much time to research stuff online. (In case you didn't know I work on the internet all day every day as a SEO so I'm pretty good at finding stuff online)
Given that I like to prepare a large amount for new things, I had a month to get ready, and I sort of rock at using the internet. I have read more about puppies and in particular golden retrievers than most anyone, maybe ever. I have read blogs, good sites, bad sites, and forums to get the lowdown on the best practices to follow when raising a puppy. I would like to help you out by listing just a few of the things that I have learned so far.
[warning]I should provide a disclaimer: I am not a veterinarian. I have not gone to any level of medical school. Any conclusions that you may or may not take away from this post regarding the best ways to raise puppies are based on my opinions and not based on fact.[/warning]
Puppy Food:
The breeder of Mackenzie is starting the puppies out with Orijen Puppy Food. Let me just say that this might be the best food ever made for a puppy, but they are charging like it will save her from cancer. I think that while she is still only eating like a cup or so of food a day that I might go ahead and keep her on this Orijen. This means that I have to find a replacement for a few weeks from now.
I found a good site to help walk you through different foods and how they rank compared to other pet foods. Check out Dog Food Adviser here. After going through 5 and 4 star dog foods, and then looking at what they cost I am leaning towards using either Simple or Taste of the Wild dog food. For sure it seems that the Taste of the Wild will be my choice for adult dog food as it seems to have the best prices for highly ranked kibble.
Crate Training:
If there is anything that seemed to have a near consensus online it was the belief that crate training is the best thing ever. In fact if you read enough about crate training your puppy you will start to think that if you decided not to crate train that you might be the worst dog owner ever.
I decided to go with a Midwest Ovation Crate: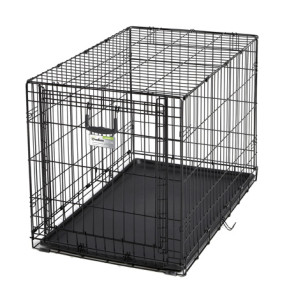 I chose this crate for the following reasons:
The door design opens easily and stows out of the way on top of the crate instead of swinging
It came with a divider that allows me to set the size inside to match the size of Mackenzie as she grows
It folded and opened real easy for moving it around
I got it at a locally owned store for a reasonable price
Concluding
So I just noticed that at this pace this one page is going to grow to about 1,000 words and that is a bit much. I think that I might save the house training, dog chews, tug o war advice, and other puppy tips I have picked up for future posts.
If you know me at all you know how excited I am at getting the new puppy. Here are some videos that I recorded when I came to visit the puppies the first few weeks:
Golden Retriever Puppies 4- Weeks
Golden Retriever Puppies 6- Weeks
Mackenzie Playing at 7 Weeks Old
Special link used for Mackenzie's Tag: http://keith-fraley.com/mackenzie-qr-page/