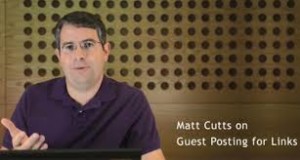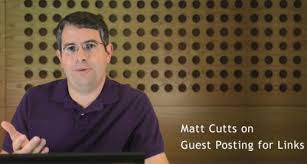 There is one thing that Google is just about the best at. I am not talking about returning search results that are the best most relevant for any query that you can think of. Nope. What Google is best at is scaring the living crap out of SEO and Link Building people. Such is the strength of Google when their head of web spam Matt Cutts posts a single blog post on his site condemning the link building strategy of guest blogging the entire social media network blows up.
Really? Stick a Fork Into Guest Posting for Links?
Maybe you should have some understanding of what is happening. Matt Cutts on his blog has posted an article declaring "The Decay and fall of Guest Blogging for SEO". In part some highlights include:
Okay, I'm calling it: if you're using guest blogging as a way to gain links in 2014, you should probably stop
So stick a fork in it: guest blogging is done; it's just gotten too spammy. In general I wouldn't recommend accepting a guest blog post unless you are willing to vouch for someone personally or know them well. Likewise, I wouldn't recommend relying on guest posting, guest blogging sites, or guest blogging SEO as a linkbuilding strategy.
This sounds to most SEO or Link Building people as pretty scary. Over the past couple of years there has been an increasingly shrinking number of ways in which to acquire inbound links for websites on any type of scale. Already Google has mostly stopped people from what is now called spammy methods. Long gone are the days of forum profiles, blog commenting, widget publishing, badge promotion, article and directory site submissions, and many more. Plus Google is so good that when they crush a well know site for shady link building they make sure that all the SEO people hear about. This has the benefit intimidating small sites into behaving the way Google wants. After all if THAT BIG SITE can get hit what will they do to me? That is unless your Rap Genius.
So is the method of guest posting for links really dead?
Of course not.
There are a good many legitimate blogs that utilize guest posts to help provide valuable content to their readers. Two pop to mind right away for me. The ever SEO diligent sites of Moz and Huffington Post made their bones by posting free submitted content. There is just no way that Google is interested in lowering the ranking of such popular websites or the other quality sites publishing guest content. So what does this mean for us normal SEO types out here in the cold world trying to get by?
I would suggest following these tips regarding guest posting for links:
Do not let guest posting or any other type of inbound links become more than 10-15% of your link profile. No matter how diligent you are, if too much of your link profile gets hammered by Google you are going to be eating Ramen Noodles
Attempt to get your links within the content of your guest posts and not as much in the author bio area
Do not bother allowing guest post content to be placed on a page that is titled as an advertisement or a sponsored post
Do not send a guest post article to a site that is 90% guest post content. Content farms mostly will not help you anyway
Limit the number of sites with home pages that have page ranks below 3 or Moz DA rankings below 30. Sure a link on a site that grows to become a page rank 5 or 6 is great but most will never become that. Hold out for the better sites
Check the sites you are reaching out to. Are there comments or social shares on their pages? If so then they might be getting actual traffic which makes is more likely that they are a decent site
Do not email guest post outreach to SEO sites or well known SEO people with your bullshit spammy emails asking for a guest post. Emailing Matt Cutts, Danny Sullivan, Rand Fishkin, Rae Hoffman, and the rest will only get you laughed at… SO STOP!
Please do not ever hire a link building or SEO company that solicits your business by sending you a form email through your companies contact page. What do you think they will do while working for you?
There will be more tips and additional SEO or link buildings tips to come as we all learn what Matt has planned for us after his blog post, but I am excited by these developments. The harder that SEO gets the more that those of us who do it the right way will be worth, and the fewer snake oil sells man there will be in the field.
Mentioned that this story was blowing up the web, and that is, I think why Mr. Cutts already updated his posting:
Updated:
Cutts added to his post "There are still many good reasons to do some guest blogging (exposure, branding, increased reach, community, etc.). Those reasons existed way before Google and they'll continue into the future. And there are absolutely some fantastic, high-quality guest bloggers out there. I changed the title of this post to make it more clear that I'm talking about guest blogging for search engine optimization (SEO) purposes."