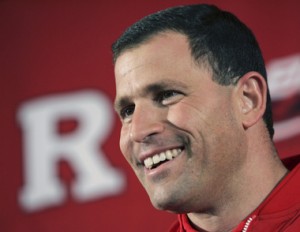 Today is a very exciting day for the fans of the Tampa Bay Buccaneers. After weeks of looking the Glazers have decided that Greg Schiano is the right fit for the head coaching position. Off the top I will say that from the information made available to a lonely season ticket holder it seems like they did about as good as they could with this hire. Clearly there were a number of coaches that were interviewed by the Bucs that the public never heard about so it is hard to know if they got the best coach available. Looking at the list of coaches the Bucs interviewed that we the public do know about the decision to go with Schiano does not seem either bad or good. There just did not seem to be any big names with good records as NFL head coaches from which to replace Rah. This means that based on what we know today hiring coach Schiano looks like a good decision.The biggest knock against the Buccaneers hiring coach Schiano seems to be that there just is not a very good history of college head coaches having success in the NFL as head coaches. Aside from the this season with Harbaugh having success with the 49ers the record of college football coaches in the NFL is terrible.Bobby Petrino Louisville – Atlanta Falcons (2007) – 1 Season 3-10
Nick Saban LSU – Miami Dolphins (2005-06) – Seasons 2 15-17
Dennis Erickson Miami – Seahawks (1995-98) 49ers (2003-04) – Seasons 6 40-56
Steve Spurrier Florida – Washington Redskins (2002-03) – Seasons 2 12-20
Butch Davis Miami – Cleveland Browns (2001-05) – Seasons 5 24-35
Mike Riley Oregon State – San Diego Chargers (1999-2001) – Seasons 3 14-34
If you read numbers like I do that is six coaches all with losing records when they made the jump to the NFL. There is just one caveat I would insert when considering the record of these other coaches when considering the hiring of Schiano. That is that Coach Schiano coached at Rutgers and not schools like Miami or Florida. At the big time schools coaches can win because they simply have more talent than most of the teams on their schedules. Seriously, Florida football each season will play maybe four of their games against teams that can field the same caliber of talent that they can. At Rutgers Schiano had to win games in which the talent he had on the field was very close to the same level as his opponents. To me that sounds a great deal like coaching in the NFL.
In the NFL where parity seems to be the way things are, coaches have to develop their players and their strategies better than the coaches on the other sidelines. This is something that coach Schiano has done for the last eleven years at Rutgers. The best thing that us Bucs fans can hope is that the right coordinators and assistants are brought in and that the Buccaneers can find some way to be a 8-8 team again.
As a fan I am happy to have a different head coach for the team than was here last season. I really do not think that there is much chance the team can possibly be any worse than the level of play we saw through the last five weeks of last season.
GO BUCS!