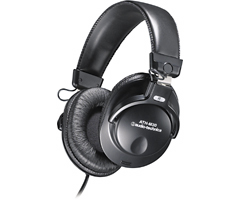 Before I say anything specific about the Audio Technica headphones that I recently bought it should be made clear that to date I have not been an owner of any headphones that cost more than $20 previously. For years the primary places or ways that I had used headphones has been at work and when working out at the gym. To be really honest I used headphones way more often at work than I ever have at a gym.
What really brought on the thinking about using better headphones than the ones I have always been using was the updating of my home theater system over the last few months. I will discuss that transition more in time but in for now what is important is that I started hearing movies and music with a much higher level of quality at home. This higher quality of sound at home made me realize how low the quality of the sound I was listening to both in my car and while I was at work was. This change is like moving from a HD television to a black and white picture.
So here are my thoughts about the new Audio-Technica ATH-M30 headphones that I am now a proud owner of.
Out of the box the very first thing a person notices that has previously used cheap headphones is that the cord is both a much higher quality but also way long (11 feet). This is great for at home or studio users of headphones but for work was a bit longer than I needed. This is not that big of an issue but was one of the first things I noticed. The other noticeable non-sound item I noticed is that the headphones fit perfectly on my head at the most compact settings. I am not sure how a woman or a guy with a smaller head might find the comfort level when wearing the headphones for an extended amount of time.
Now the fun part, the sound. These headphones sound very good. I mean obviously coming from a $20 headphone user these were a revolution. I will never again be able to use drug store bought headphones in any meaningful way again. Listening to songs that I thought I heard every part of had all new bits of sound in them that I was not aware of. Little additions like background guitar notes or other sound affects are now completely available to my ears. The high end sounds are crisp and clear sounding. The bass and low end sounds are perfect to my ears. The low end sounds while deep do not dominate the sound I hear. That is alright for me because not very often do I listen to music with dominate bass sounds.
As I have made clear I am not a Bose $300 headphone aficionado but I can safely say that for around the $45 to $60 dollar range these are great headphones to buy. Everyone online while listing the price for these headphones lists the MSRP at $115 and I never saw anyone selling the Audio-Technica headphones for anything close to that. I paid $41 for them, and I saw them in many places for $59. So if you are in the market for headphones I can say that I would buy these again, you should be diligent when shopping for them to make sure you pay the best price.
Here is some specifications of the Audio-Technica ATH-M30
Driver –  40 mm, neodymium, CCAW voice coil
Frequency Response – 20-20,000 Hz
Maximum Input Power – 1,600 mW at 1 kHz
Sensitivity – 100 dB
Impedance – 65 ohms
Weight 200 g (7.0 oz), without cable
Cable – 3.4 m (11′), OFC litz wire, left-side exit
Connector – 3.5 mm (1/8″) stereo mini-plug
Accessory Included – Screw-on 6.3 mm (1/4″) adaptor